In this article, we want to share our experience with video recording and audio noise issues, from the point of view of a novice YouTuber. We start the journey with limited equipment. then tried upgrading the microphone, fixing noise using software, until finally discovered NVIDIA RTX Voice and Krisp for real-time and easiest noise reduction solutions, not only for recording but also for voice calls like Zoom, Teams, Skype, etc.
Outline
---
Dealing with Audio Noise
When we started making tutorials on YouTube, we didn't have any experience and just picked any software and tools at our disposal, such as phone headset (with a mic).
For the software side, there are no problems. We use OBS Studio to record the screen, and it does the job perfectly. The resulting video quality and size are good. For this purpose, OBS Studio is a powerful free alternative to Camtasia Recorder. (Of course, they are different and OBS does more than screen recording).
We tried several microphones, starting with an analog headset that uses 2 3.5mm plugs, then a headset that comes with a cellphone. They are not good. The recorded sound was very noisy.
Actually, noise can be reduced using audio editor software. Audacity can do that. Video editor like Premiere also has that feature. But we tried and didn't get good result. Once the noise gone, the voice became unnatural.
When it comes to audio, We are very inexperienced, so it must be something to do with our editing skills. But we feel that the main culprit was the quality of the audio source. It feels like taking a pic with an old VGA camera phone. no matter how hard we edit, it will still bad.
From the experience in my previous work, a headset with a 3.55mm analog plug that connected directly into the PC (with no dedicated soundcard) tends to producing more noise. Different story with headset with USB plug, which is digital.
So out of curiosity, we started hunting for new microphones. Our budget is so limited so we won't buy high-end or pro-grade equipment. Just better and clearer audio is enough for us.
After checking reviews, we decided to buy Taffware BM-900 which has a USB plug. This mic is good, but unfortunately, also very sensitive. It picked up too much surrounding ambient sound. Bakers passing by, kitchen noises, kids, and people around talking… all are recorded. We don't have a quiet or soundproof room. So if we want to record, you have to schedule a good time for it, eg: at midnight. Definitely a productivity blocker.
Then we tried to reduce noise in the video editor and the results were not satisfactory, and obviously, all of this will slows down the editing process.
So we were wondering what else we need. Do we need another hardware?. like Mixer or Sound card? Or try another mic with integrated noise-canceling?
We don't want to buy expensive stuff that ends with disappointment. We also didn't have time to do deeper research and learning a complex setup. So we just bought a Logitech office headset with a noise-canceling mic.
Office-grade headsets like this usually come with a built-in noise-canceling microphone, for making skype calls or other online meetings in noisy office spaces. Example model: Logitech H150, H340, etc. Just check the product description to make sure.
Note that the noise canceling is on the microphone or input, not at the output. Don't get confused with expensive noise-canceling headphones like the ones from Sony or Bose. In this type, noise cancellation is applied to what you hear. Something like this is suitable for listening to music or conversation in noisy places.
As a result, the surrounding noise was eliminated nicely. However, the voice becomes a bit unnatural, like having a cold. Sometimes there are also strange "thumping" and breathing sounds.
The headset mic doesn't come with foam, so we tried to put foam on it. The result was a bit better. Overall we are satisfied enough with this headset.
Our recent Inkscape tutorials were recorded with this mic. The sound improved a bit compared to earlier videos. We then decided to stop any further experiment with audio recording.
Discovering NVIDIA RTX Voice
Then we coincidentally discovered something called RTX Voice from Nvidia. It's a noise-canceling technology that is processed on the NVIDIA graphic card that involving AI / artificial intelligence.
As the name suggests, AI is intelligent, it doesn't just filter out data based on fixed parameters, but it can also "learn" and improving. The more it's used, the better and more accurate the result. The computation is done in a graphic card. So it's done in real-time and doesn't put too much overhead on CPU. As commonly known, GPU consists of lots of small processor cores so it's very good at parallel computing.
Kami agak telat sih taunya, apalagi karena saya kira teknologi ini cuma jalan di VGA seri RTX yang cukup mahal (yang terkenal dengan fitur ray tracing nya). Kami nggak punya RTX card.
We're a bit late, since RTX voice has been a while. We think this features only works on the expensive RTX series (which is famous for its ray tracing feature), and we don't have an RTX card.
But turns out that RTX Voice can be installed on GTX cards too. In earlier version of the app, the installer won't continue when it didn't detect RTX. However, there is a little trick to enable the installation to non-RTX devices. We were excited. And even better,
In the later version, the RTX voice app can officially run on the GTX card. No need for tricks or hack anymore. Even though, from what I read, there are differences in performance compared to when you use it in RTX. In GTX, processing is quite a burden on VGA, especially when playing games. And people also said that the noise-canceling result in GTX is not as good as RTX.
Our GPU is GTX 1650 Super. We successfully install the RTC Voice driver.
We tried it with our microphone, Taffware BM-900, and.. it works like magic!
We were amazed with the result. It completely removes background and surrounding noise
And since this works in real-time, we got the clear sound immediately. It really saves editing time.
If you look at the reviews on YouTube, people demonstrating even more extreme stuff with it. Eg: with an RTX card, trying to record a voice while running a vacuum cleaner, playing loud songs, and make other noises. All those noises disappear. And the voice was still clear!
We also tried installing RTX Voice on a laptop with GTX 1050Ti. And looks working. I heard it even work with Nvidia MX250 (low end). Of course expect to have worse performance, compared to higher-end NVIDIA cards.
How to Install & Use
Its easy
Download and install the driver from https://www.nvidia.com/en-us/geforce/guides/nvidia-rtx-voice-setup-guide/#Setup-guides
So RTX Voice will act as a virtual device that becomes the middleman between the mic driver and the program that uses mic. On the desktop, there will be an app. As you can see in the screenshot below (1) Select which mic input you want to reduce the noise. and (2) Tick to remove noise and move the% slider for higher suppression level.
Illustration:
Before RTX Voice, the programs connected directly to the mic driver.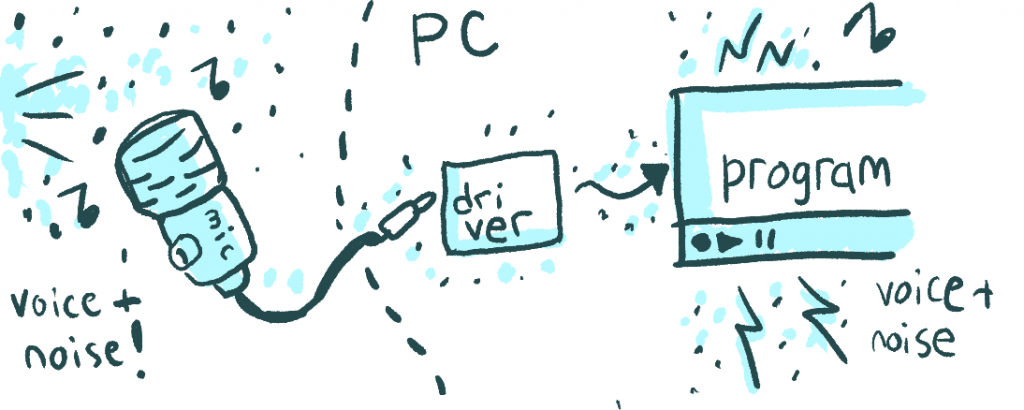 After RTX Voice, the data goes through RTX voice to be cleaned up.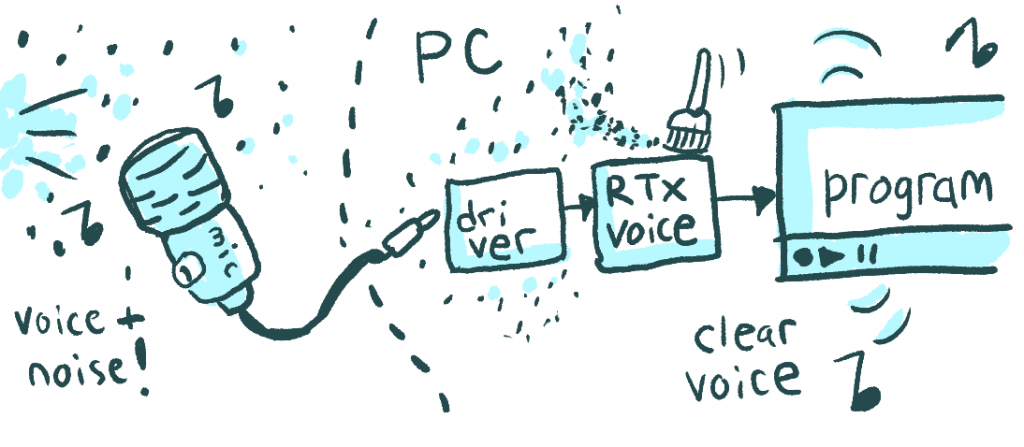 At the NVIDIA download page at point #1 above, there are also setup instructions in various applications like Discord, OBS Studio, Skype, Microsoft Teams, and others. Below is the example settings for OBS Studio: In the audio settings (1), Set the mic audio to Microphone (NVIDIA RTX Voice) (2).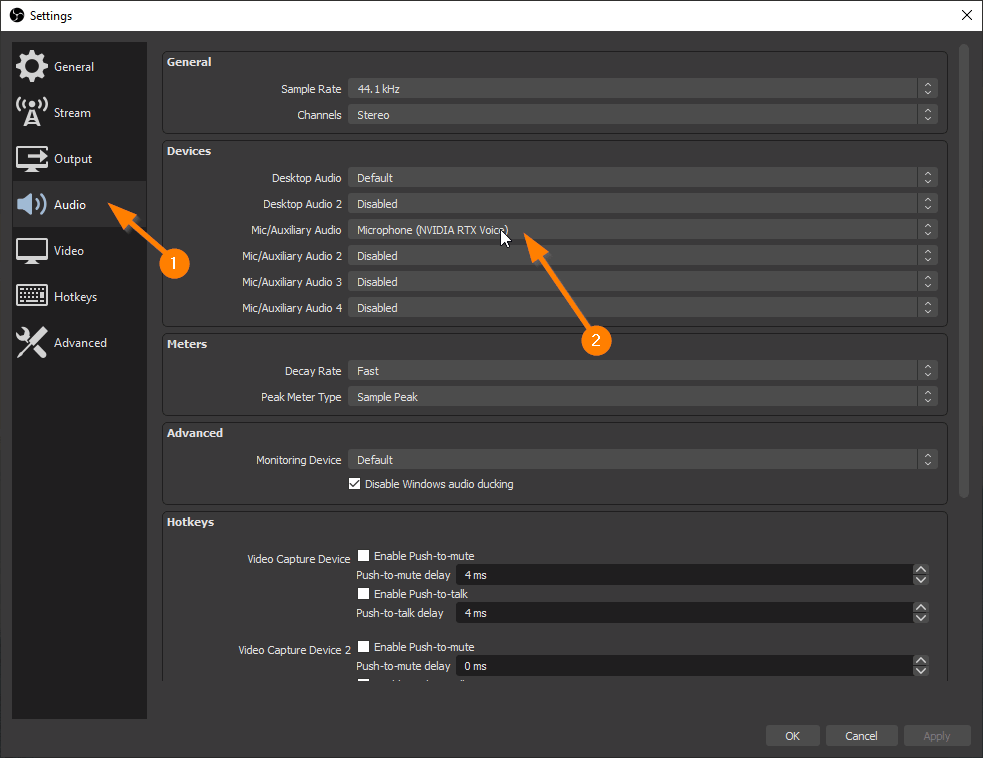 That's all, it's so easy. We are happy since it's like a bonus feature from our NVIDIA card.
How if you don't have NVIDIA cards? Try Krisp
Turns out that there is another alternative app that does a similar thing, named Krisp.
It's an AI-powered noise reduction tech, but without the need for NVIDIA hardware, (maybe the processing is done in the CPU?)
We haven't tried it yet, but based on the reviews it looks great. Note that this is a paid service with a freemium plan. The free tier is limited to 120 minutes quota per week. Sounds good.
So in summary, if you have NVIDIA hardware, try RTX Voice, if not, then try Krisp. They both look great.
Of course, the usage is not just limited to voice recordings, they are mainly perfect for voice & video calls. Especially in the current pandemic. It integrated nicely with communication apps like Zoom, Teams, Skype, Discord, etc. The noise-canceling tech really helps others hear you better, especially when you are in noisy a place.